Placement
Shows + visits
"My work is painstakingly birthed out of me with all I know of beauty. They are my meditations, my passion, my babies. When they find the right collector and home, they shine and radiate a new vibration that is in tune with it's new environment." – Kue King
In addition to fine art shows, Kue offers private home showings to help his collectors visualize the sculpture in space and light. If you're outside of Kue's travels, we can work with you on selecting and "digitally placing" his sculpture in your home through email.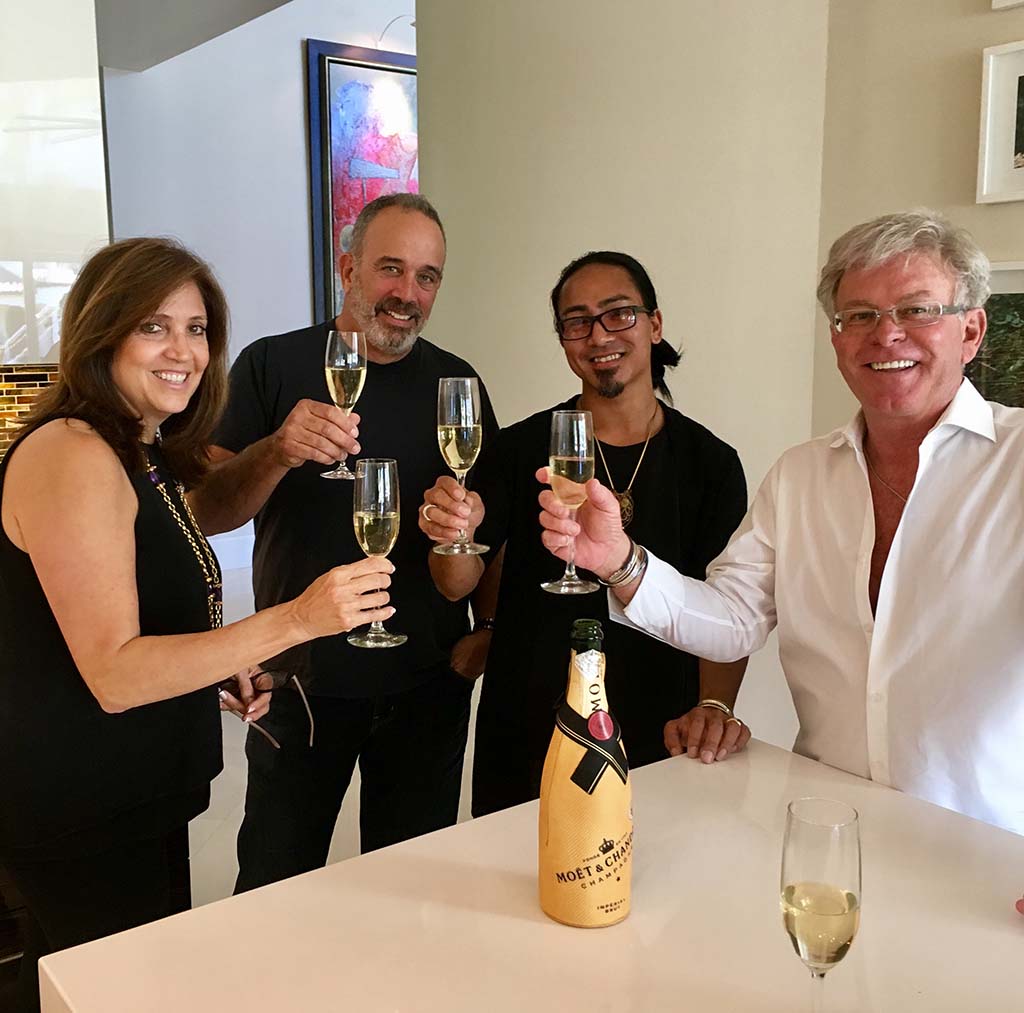 Testimonials
From Collectors
Private Collector, Westhampton, New York:
"My heart flutters when I think of all the emotion you pour into your work. Thank you for the honor to have your work in our homes. Our most sacred places. Whether sitting with a glass of wine at twilight or now with a cup of coffee after the kids have left for school the tranquility and peace that our "Tree of Life" gives me is immeasurable."
__
Bob and Sharon, Chicago, Illinois:
"Kue and Corbett were kind enough to bring several pieces to our home, and help us make a decision as to what piece would look the best. Once mounted and properly lit, we received many compliments.  So many that we simply had to have more of Kue's work for our home in Chicago.  It just so happened that Kue and Corbett were at the Highland Park Art Fest in Illinois, where we purchased two additional pieces that fit beautifully in our Illinois residence. This art is both beautiful and unparalleled."
__
 Nancy and Bob, St Petersburg, Florida:
We want to thank you and Corbett for the time you spent with us this week. When our home was completed this past March, we knew it would be challenging to find a perfect piece that would work with the fossilized coral tile over our fireplace.
We traveled to many art shows and galleries in the Sanibel area, we couldn't find the right piece.  While several artists suggested that we buy their art and try it on the wall with a guaranteed return if we didn't like it…….
You and Corbett went way beyond that when you offered to visit our home with your current collection and would work with us to see what really fit.
With your truck in our driveway, your ladder extended, you and Corbett literally held a multitude of your creations over the fireplace. Even after all of that, you were not satisfied and actually created the perfect piece utilizing different parts from two of your works. Viola, it was perfect!
__
Shirley Smith, Sarasota, Florida:
"My experience with both Kue and Corbett was not only pleasant but very successful. I was looking for a piece that would stand out and be different from anything I had seen.
What I found was not only the piece was different but so was the artist. Kue was very interesting not only to look at but also to talk to. His sculpture reflects the man—beautiful and interesting and different from any others. I get wonderful comments on the piece."
Collection
Growing and Evolving
The roots of this collection come from ancient weaving and construction techniques. Pioneered by Ruth Asawa in the 70's, Kue has learned from her techniques in wire, working to expand and resolve the postmodern difficulties of form in the medium.
Completion
The final step
When Kue builds a collection, some pieces complete quickly while many pieces morph and change over time. Pieces disappear; new pieces emerge from the old. Some works take months to complete. Others happen in an overnight fit of inspiration.
Whether your home is deco, eclectic, modern, contemporary, or traditional, Kue's sculptures interact with many design aesthetics. Working with the homeowners as a collaborative art form, Kue's sculpture transforms arbitrary design distinctions.
None of his pieces are truly finished until he places them.